See this instead: https://google-earth.wikia.com/wiki/Google_Earth_Wiki
Tuesday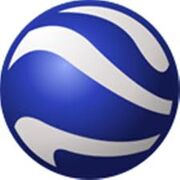 NEW HOME PAGE UPDATE IN PROGRESS GGEW VERSION 1.2
By undercovermoderator
Google Earth Admin 18:59, August 16, 2012 (UTC)
Welcome to the Google Earth wiki!
This wiki will give you tips, tricks and help on the digital maping program called Google Earth. Click on any of the links below to go to that info. If a link is broken tell us on the Site suggestions and we will get it fixed as soon as possible. Visit the Google Earth wiki and Earth news to find out about the newest updates to the wiki and to google earth. On the news you can post your latest facts(please post below main news area). This wiki will be updated once a day by me. All the links that have red text have nothing written in them yet. Any pages you don't think have enough information on them, go ahead and edit. If you need help post your problem in the Google Earth Wiki help center and we will respond as soon as possible.-undercovermoderator
Google Earth
Original author(s)
Google, Inc.
Developer(s)
Google
Initial release
June 28, 2005

(as Google Earth) June 11, 2001 (as Earthviewer)

Stable release
6.2.2.6613 (April 11, 2012; 3 months ago)[±]
Preview release
[±]
Operating system
Android, Windows2000, XP, Vista, 7,Mac OS X, Symbian,Blackberry Storm, iOSand Linux
Size
Windows - 12.5 MiBiOS - 8.9 MiBAndroid - 5.72 MiBLinux - 24 MiBMac OS X - 35 MiB
Translation available
45 languages
Type
Virtual globe
License
Freeware/Proprietary
Website
earth.google.com
THREE WAYS TO EXPLORE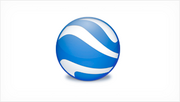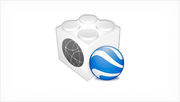 Desktop
Google Earth is fully-featured for desktop users with three different versions: Google Earth, Google Earth Pro and Google Earth Enterprise.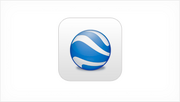 Web
Use the Google Earth plug-in to enjoy 3D views of the globe on sites across the web or try Earth view in Google Maps.
Mobile
Explore the world from the palm of your hand, at home or on the go. Available for Android and iOS devices.

We Support GEFS